Colors of Andalucia

a Great Motorcycle Tour is not only nice routes...
Motorcycle Tour | South Spain | visit Sevilla, Granada, Cordoba
Discover the fascinating Andalusia on this motorcycle trip. You are in Spain but certainly in the region that has the most Eastern culture in Europe. Andalusian roads are a natural playground for all bikers, ride through landscapes of multiple contrasts. Sunny picturesque villages, the Sierra Nevada mountain culminating at over 3400m above sea level, many heritage sites. And if you wish to take a nap under one of countless olive trees, the choice is yours. During this motorcycle journey in Andalusia, you can sample the varied culinary traditions, enjoy charming accommodations and discover exceptional monuments.
Motorcycle Tour Spain | C

olors of

Andalucia 11

days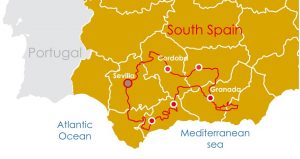 Colors of andalucia | from 1795€

Séjour
à partir de 1890€
11jrs de roulage | Formule voyage Liberté ou Accompagné
Roulage
1700 kms total | 175 à 300 kms par jour | 5-6 heures de conduite/jour
en itinérance | J3, J6, J8 > boucle
Niveau Intermédiaire | 8 motos max | Transport de bagages en séjour 'Accompagné' (8p. mini)
Hébergement
10 nuits | hébergement de charme 3* et 4*
Gastronomie
saveurs locales | 10 dîners, 10 petits déjeuners
Parcours
réseau secondaire, cols, routes de montagne, routes étroites et sinueuses
panoramas variés: montagne, plaines arides, vallées encaissées, lacs, …

Highlights
culture des oliviers, villages Blancs, Sierra Nevada, routes de montagnes
une journée pour découvrir Séville, Grenade et Cordoue
Motorcycle Tour Andalucia Spain Colors | Program
available dates:
Guided Motorcycle Tour Andalucia | 04-14 October
Free Motorcycle Tour Andalucia      | all year-round (exept July & August)
booking 60 d before departure |other dates on request
DAY 1: Heart of ANdalucia | Malaga | 140 kms
!Bienvenido!
From one of the sunniest coasts at the extreme south of Europe, you will head towards your first Andalusian Natural Park which will immediately be used to its many turns to have fun ... Total escape! First panoramic views, first olive trees on the heights and diversities of the landscapes in a few hours. In the afternoon the natural sculptures will gently awaken your curiosity. Ecclesiastical heritage for your first evening.
DAY 2: To the Alhambra | Granada | 175 kms
The heart of Andalusia, here you are! A morning of motorcycle will take you to one of the treasures of Spain. First rounds of wheels on lands that will give you the feeling of adventure and large spaces where you can find in abundance the green nuggets of Andalusia. Then, let's head to Granada. But before discovering its sumptuous Alhambra, nothing like climbing the Sierra Nevada towards Pico Veleta to take a breath of fresh air around 3000m. After a churros con chocolate, down to the bewitching Granada classified World Heritage Unesco. Evening the Andalusian rhythm, you will have to get used to it!
DAY 3: Granada, free visit | Granade | 0 kms
Free day to discover Granada, you will immediately be immersed in this oriental atmosphere. Take the morning to discover one of the treasures of Spain: the sumptuous Alhambra, the most visited site of Spain. Palais and Moorish city, a must. After this magnificent visit, you will stroll around the different districts of Granada before ending up for 'la cena'. But do not be too impatient! In the meantime enjoy some tapas and glasses of 'Tinto de Verano' while waiting for your meal.
DAY 4: Alpujarras | Granade | 225 kms
Another beautiful motorcycle day in the mountains, with a perfect asphalt, beautiful curves, small dominant roads, a peaceful environment of small hilltop villages that you sometimes have to go and get. Some pastures, orange trees, fig trees, and other almond trees will mark your itinerary. The mixture of fresh air from Sierra Nevada and from the Mediterranean, make this region the ideal place for drying the famous Iberian hams. No doubt your stop at Trevélez will awaken your taste buds. Hold your handlebar, it will turn. We will spend the night north of the Sierra where some people live underground.
DAY 5: Olive tree ahead | 325 kms
Today is a big stage of your motorcycle journey, in the direction of the immense country of olive groves. But first of all, it is a must-see in a magnificent natural park of mountains rather isolated but which possesses some amazing natural beauties. Then head towards Jaen, the capital of olive oil where you must discover one of the many 'Almazaras', or oil mills, to unravel the secrets of making this green gold so beneficial for health. Last part of the day is faster in order to reach Cordoba in the evening. You will then walk through the labyrinth of the little streets and the white patios of the old town.
DAY 6: Cordoba, free day | Cordoba | 0 kms
You must spend the day in Cordoba, the capital of the most northern province of Andalusia. It is the ancient Mecca of the West and was the intellectual center of the Muslim world. Listed as World Heritage, the heart of Cordoba is concentrated around the Mezquita, one of the most beautiful Islamic buildings in the world. Then stroll through the narrow streets made of flowery white houses that make up the district of the Juderia, the former Jewish quarter of the city. Enjoy your oriental evening by entering a 'Teterias' for tea
DAY 7: Sierra de Los Hornachuelos | Cordoba | 255 kms
Sierra Morena and the natural park Hornachuelos, located between Cordoba and Sevilla will be the panorama of that day.  Always olive trees but many oak trees appear in this area where the pigs of the famous Pata Negra ham are feasting on acorns. Small clean and winding roads will take you to the north of Sevilla where the great Hacienda throne. Some roads are a little bit difficult but will allow you to discover famous points of view. The Andalusian capital in the sights for the evening.
DAY 8: Sevilla, free day | Sevilla | 0 kms
Plaza de Espana,in  the Santa Cruz district, the Royal Alcazar, your day in Seville will be full. Everything can be visited easily but do not hesitate to use a city bike to see a maximum. You will lose all your landmarks in the meander of the small streets. Enjoy and savor an ice cream in the shade of a terrace. Also take a look at the Seville Gothic Cathedral, the biggest in the world, or stroll through the popular Triana district, the birthplace of famous toreador and flamenco singers. Last Sevillian evening to try a few steps of Tango.
DAY 9: White villages | Sevilla | 275 kms
Radical change this morning, you will border rice fields of the Guadalquivir plain and find the hilly relief of the Sierras de Cadiz. Some cereal crops before entering the middle mountain area and drive among the white villages whose walls are covered with lime and decorated with flower pots in bright colors. Tiny, narrow, steep streets make up the charm of these villages. Even on motorcycles, access can be complicated. Moorish villages set on steep slopes under a brilliant blue sky. You will spend the evening in an amazing paused city where a gigantic fault divides the city in two. Do not play with cowboys in this cradle of bullfighting.
DAY 10: Impressive nature | Mijas | 185 kms
Last day to be amazed. Surprising formations and natural reliefs will astonish you again. Before returning to seaside, take your time to discover this famous village where one of the main streets remains the most photographed of the Andalusian coast. The donkeys as a means of locomotion a few years ago have now become a tourist attraction emblem of the city. We descend from this village perched above the sea to return to the coast and the capital of the Costa del Sol before your last evening and the hard back to reality.
DAY 11: Costa del Sol | Malaga
! Hasta pronto !
If you have a few hours before your flight, enjoy your last day to stroll in Malaga, seaside resort of the 70's, whose heart of town with its narrow streets, alcazaba and Picasso museum are a beauty.
Guided  Motorcycle Tour| 11d Andalucia | 'all inclusive' + Guide + Support luggage
Free Motorcycle Tour| 11d Andalucia |RoadBook + GPS files
prix / pers.
Pilote
(en chambre double)

Passager
(en chambre double)
supplément single
séjour Guidé
2990 €
2790 €
690 €
séjour Libre
1795 €
1595 €
690 €
Options
Bmw 700GS / 800GS
Triumph Tiger 800
Bmw 1200 GS/RT
Triumph Explorer 1200
Honda Africa Twin

Harley Davidson Sportster
Harley Davidson Touring
prix / pilote
+990 €

+1290 €
+1190 €
+1590 €
(*motorcycle rental: equivalent model if not available)
Voyage en formule 'Accompagné'
INCLUS
Voyage en formule 'Liberté'
INCLUS
- Nuitées en hébergement de charme 3*/4*
- petits déjeuners.
- Nuitées en hébergement de charme 3*/4*
- petits déjeuners.
- Accompagnateur à moto
- Itinéraires fournis: RoadBook + GPS.
- Tous les dîners (hors boissons).
- Tous les dîners (hors boissons).
- Transfert aéroport Toulouse-Blagnac.
- TRANSPORT BAGAGES (8p mini)
- Moto de location si option choisie.
- patrimoine,
- saveurs locales et dégustations,
- convivialité,
-bol d'air et bonne humeur, ...

- patrimoine,
- saveurs locales et dégustations,
- bol d'air et bonne humeur, ...

Voyage en formule 'Accompagné'
NON INCLUS
Voyage en formule 'Liberté'
NON INCLUS
- les repas du midi
- les boissons lors des dîners.
- carburant
- tous les services non spécifiés: boissons, entrées si visites, dépense personnelles, etc …

- les repas du midi
- les boissons lors des dîners.
- guide
- transport des baguages
- carburant
- tous les services non spécifiés: entrée visite, boissons, dépense personnelles, etc …