Motorbike Rental | France, Spain, Italy, Greece, Sweden
choose your rental Motorcycle Rental in France, Spain, Italy, Greece, Sweden
to ride your next Motorcycle Tour or easily for  Day Trip

Pyrénées & SudFrance
Toulouse / Barcelone
Espagne | Andalousie
Malaga
Italie | Dolomites
Genève / Milan
Grèce
Athènes
Moto Guzzi V7
& V9
Moto Guzzi Stelvio
Aprilia Caponord
Moto Guzzi Norge
Harley Davidson Sportster
Moto Guzzi California
Harley Davidson Touring
Road King / Electra Glide
Livraison moto location: sur demande
Pack Complet: Casque + Veste + Gants
Sur Demande

Cependant, nous vous conseillons d'utiliser de préférence votre équipement.
Motorcycle Rental Delivery: at your accomodation in Tarn, Midi-Pyrénées, Toulouse, Albi, Montauban ... > quote on demand

Motorcycle Day trip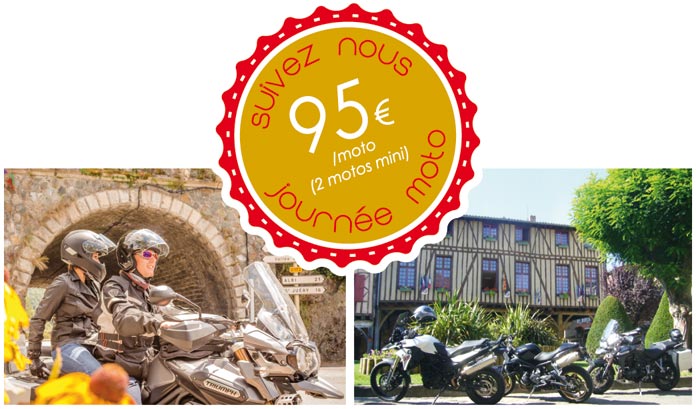 You are in holidays in the SouthWest France and you have a strong desire for a trip, a motorcycle daily trip to discover nice small curvy routes in Midi-Pyrenees between Toulouse, Albi Unesco city, Carcassonne, Montauban...
During your motorbike journey in the Tarn, enjoy the perfect knowledge of our local guide who will drive you on his itineraries and best routes.
You are in holidays with your family without motorcycle & equipment ! We offer you at your accomodation a rental bike with helmet, gloves jacket.
Gift coupon 'à-la-carte' motorbike travel are available
You will discover Toulouse, the Unesco episcopal city Albi, the Millau Viaduc, the Lot region or for the big riders, we can ride border the Pyrenees mountain. We are located in the heart of the Gaillac vineyard and fortified villages & castle.
Guided motorcycle trip

Accompagnement

Tarifs /jour /moto
(2 motos mini)
Inclus
avec votre moto
95 € > 2 motos
85 € > 3 motos
75 € > 4 motos

- accompagnateur à moto
- départ depuis votre hébergement

(*fuel, lunch, beverage, visit >
NOT Included
)
Programme Journée Moto
rendez-vous à votre hébergement | 5 à 6 heures de motos | 250 à 300 kms
09.00: présentation de la journée
09.30: excursion accompagnée
12.30: pause déjeuner
13.30: excursion accompagnée
18.00: retour à votre hébergement