Special Women Motorcycle Tour


SouthWest France | Tarn | Albi | Gaillac | stone Villages & Vineyard
Enjoy a nice Motorcycle Tour exclusively for women in the heart of the South-West of France. Every day, you ride the best routes with your guide and you will discover places to stroll. Motorbike, charm, wellbeing and relaxation… the French art of living in the Tarn region. Close to Toulouse the pink city and Albi the red, you'll discover landscapes, typical villages, medieval cities, vineyards, gastronomy & local flavours. Enjoy your charming accommodation, relaxing moments, a moment of wellbeing.
Motorcycle Tour France |  Women Bike Travel, Ladies Special 7j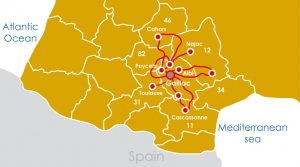 Women Special | from 1725€

Séjour
Séjour 7jrs | en étoile, le confort d'un seul hébergement | avec Guide
Midi-Pyrénées, Occitanie, Tarn, Aveyron, Aude, Lot
Pas de bagage à transporter.


Roulage
7 jours | 250 à 300 kms par jour | 5-6 heures de conduite | 1550 kms
Niveau Intermédiaire | 8 motos max | Transport de bagages
accompagnateur à moto (vérification de votre moto quotidien)
Hébergement
6 nuits | hébergement de charme 3*
Gastronomie
saveurs locales | 6 dîners, 6 petits déjeuners
Parcours
Routes sinueuses, terroir et paysages variés: vallons, lacs, vignobles, gorges, campagne, forêts...
Highlights
cités médiévales : Cordes sur Ciel, Puycelci | patrimoine UNESCO : Albi, Carcassonne, Cahors,...
viaduc de Millau, caves de Roquefort,... | Dégustation de vins de Gaillac, séance de massage
Program Women motorcycle tour
available dates:
Guided Women Motorcycle Tour 2019 | 18-24 May
booking 60 days before departure |other dates on request
DAY 1: Episcopal city| 145 kms
! Bienvenue in the SouthWest !
We will start for a ride along the 'Pays de Cocagne' where the blue Pastel was the king. First stop in a typical village made by stone and wood to have a coffe. Will take the road to discover Albi,  the city of the famous painter Toulouse-Lautrec, and we will visit the Episcopal City registered on the Unesco Heritage and its biggest Cathedral made by bricks in the world. Finally we will arrive in the Gaillac vineyard before settle comfortably in your charming accomodation. We will show you your journey follow by an aperitif ... before have a delightful dinner.
DAY 2: Fortified Villages & Vineyards | 225 kms
Delicious home made breakfast with marmelade of the season to begin this day with an itinerary in the heart of the stone villages and vineyards.
Start for a ride amoung medieval villages, houses and other fortification in the middle of the french terroir. Discovery of a typical local market, with fresh fruits & vegetables, small things to eat, under stone market hall. Take your lunch in Cordes sur Ciel, the medieval high perched city and why not visit a vineyard upon our return. ...enjoy the peaceful environment of your accommodation before tasting your dinner
DAY 3: Viaduct & veined cheese | 285 kms
Fresh fruit and croissant to begin this nice day !
Ride in the meandering river "Tarn" in a green wilderness before arrive at the foot of the impressive Millau viaduct which pass over the valley, the highest road  bridge in the world. Then, discover how this bridge was built before taste the local cheese, the Roquefort. Take a suit we will go down under the earth to visit the caves. ...Return in the evening to the Gaillac region, before dining at the table of a 'Bib Gourmet Michelin' restaurant
DAY 4: Cliffs and Causses of the Lot | 280 kms
A tasting breakfast for a new day! Then routes to Cahors, greedy city, on the paths of Compostela between vineyards, river "Lot" and arid country sides.
Discover one of the most beautiful villages in France for your lunch break, hanging on the cliff more than 100m above the river "Lot".
Return trip on the evening to the vineyards of Gaillac. It's time to have a relax time with a pure moment of well-being. And now, appreciate a dinner very beneficial for our taste buds
DAY 5: Black Mountain & charcuterie | 250 kms
Some chocolatine this morning! Let's go ahead to the green lumb, last wall over the Mediterranean sea, made by granit and dense vegetation where you can see the sculpture of the nature. You are in the Sidobre place. ...Lunch at the countryside to rest and enjoy.
You discover after how sausage, jam and other charcuterie are done. Lot of curves to come back at home to taste new flavors, relax you before your meal.
DAY 6: Medieval City & canal du Midi | 260 kms
Last ride and you take the cap to the Cathar countryside gataway where nature is omnipresent, between lakes, forests, vineyards, mountains. Stop to the natural tank of the Canal du Midi before a perfect roads to the medieval city of Carcassonne. Free time during the lunch in the heart of this fabulous fortified city throught the small street, a UNESCO  World Heritage such as the Canal du Midi at its feet. Some kilometers in the Minervois, other vineyard region before climb on the top to have a scenic panorama. Return trip on the evening to the vineyards of Gaillac where we'll have dinner very beneficial for our taste buds
DAY 7: Violets & Capitole | 130 kms
... Breakfast before your departure with your head full of images and a sharpened appetite. We will ride for a small trip to Toulouse, the most spanish city in France. Bumpy return to earth
Guided Motorcycle Tour | 7d Ladies Special | 'all inclusive' + Guide + Support luggage
prix €/personne
(en chambre double)
Pilote
Passager
supplément single
séjour Guidé + Support 7j
1790
1690
250
(*motorcycle rental: equivalent model if not available)
INCLUS séjour Guidé
- Nuitées en hébergement de charme 3*/4*
- petits déjeuners.
- Accompagnateur à moto
- Tous les dîners (hors boissons).
- Transfert aéroport Toulouse-Blagnac.
- TRANSPORT BAGAGES (6p mini)
- Carburant
- Moto de location si option choisie.
- session MASSAGE
- patrimoine,
- saveurs locales et dégustations,
- convivialité,
-bol d'air et bonne humeur, ...

NON INCLUS
- les repas du midi
- les boissons lors des dîners.
- carburant
- tous les services non spécifiés: boissons, entrées si visites, dépense personnelles, etc …

<!-- Global site tag (gtag.js) - Google Ads: 760595889 -->
<script async src="https://www.googletagmanager.com/gtag/js?id=AW-760595889"></script>
<script>
window.dataLayer = window.dataLayer || [];
function gtag(){dataLayer.push(arguments);}
gtag('js', new Date());
gtag('config', 'AW-760595889');
</script>