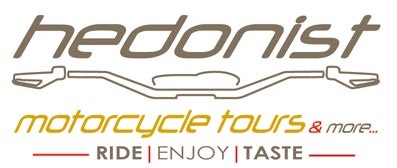 Motorcycle Tours: France, Spain, Italy, Greece, Sweden, Morocco
M

otorcycle

Tours



FRANCE | SPAIN | ITALY | GREECE | SCANDINAVIA
#Pyrenees #South-France #Andalucia #Dolomites #Sweden
...perfect trip for epicurean bikers...
HedonistMotorcycleTours

|

your Motorcycle Travel Agency
...we bring you through our nice discoveries...
Small groups, refined routes, places of interest, customized journey,
Enjoy ! Charming accommodations & local Flavors … we share that we like.
' a nice motorcycle tours is not only beautiful routes'
Choose a Motorcycle Travel agency for your holidays
Create Travels, it's our job, your unique goal is to enjoy your destination
!! Ride|Enjoy|Taste !!
How to participate in our Motorbike Tours?
Choose your next motorcycle travel among our destination. Group or individual, you have different option. With 'Guided Motorbike Tours', doesn't matter with itinerary, you follow your guide on motorcycle who take care about the perfect routes every day. You have at your disposal a support vehicle for your luggage. You hope to be autonomous and free, choose 'Free Guided Tour', we provide you a RoadBook and GPS files for the trip.
Hedonist Motorcycle Tours provide a special care to you with great quality services and for your comfort in your journey. You have at your disposal rental motorbike depend where the tour take is located. Just have a look here. Try to ride a new motorbike, just have a look here.